June 4, 2011 at 7:42 pm (CST)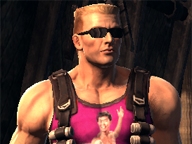 The Duke Nukem Forever demo is out. I can't even convey how surreal it is to me to be typing those words. But anyway, I've been poking around the demo for the last couple of days, and a
new version of Noesis
is up now that supports extracting 5 different variants of its included .dat packages.
The picture is of the world's first (well, probably) right and proper DNF content mod, with Duke sporting his brand new Takei Pride tanktop. Noesis spits out all of the info you need to re-inject textures while it's extracting them, and I've already got a fully functional repacker that I intend to release sometime relatively soon. I've also finished hammering out the model format now, and Noesis v3.27 and later can view/export them.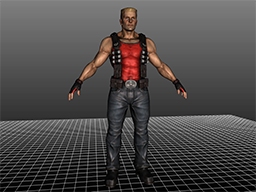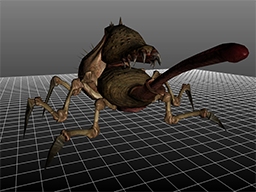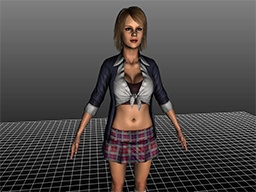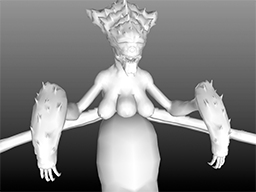 The process of exporting the models is pretty simple, but requires a few steps. Here's a step by step of what you need to do.
1) Using Noesis, extract the contents SkinMshes/defs.dat, SkinMeshes/meshes.dat, and SkinMeshes/skels.def. By default, Noesis will want to extract these to separate folders. You don't want this, and instead you want to extract them all to a single folder. (e.g. "c:\steam\steamapps\common\duke nukem forever demo\SkinMeshes\allfiles")
2) Browse to the .msh of your choice in Noesis and open it.
3) If .skl or .def files cannot be found automatically you will be prompted for them. Additionally, Noesis will attempt to find MegaPackage.dat and TextureDirectory.dat relative to the path of the .msh file. If it cannot, you will be prompted for those files as well.
4) Export and enjoy. Note that materials are still a work in progress, and it can't automatically find the right materials in most cases. But certain models are working. (like Duke and one of the Holsom twins)
I've got model re-import/modification working, but the material situation limits it pretty severely. In the coming days/weeks, I'll be continuing to reverse that data and trying to figure out a reasonable process for replacing/overriding assets that doesn't involve rebuilding all of the game's packages.
Also, if you haven't heard yet, you can
play the vehicle sequence in first-person
. It's much nicer this way.
Update:
I've successfully exported a model to COLLADA, modified it (re-weighted, added and modified geometry, modified the texture), re-exported it to .msh using my in-progress Noesis exporter, and got it to load in the demo. Have a look:
Wait for the scene with the twins.
Comments
129 comments in total.
Post a comment
DavoX
June 21, 2011 at 2:05 pm (CST)
Hopefully you'll be able to work things out for the MOD tools in DNF!! I will support you to the end! This is coming from a professional level designer!
Gordon
June 21, 2011 at 4:00 am (CST)
Well i just copied the client.dll folder from Jumbot\cl_dlls\client.dll(this is from the v2.4) in the Jumbot 2.0 folder.
Jumbot 2.4 didn't work.It gave me an error saying something about how the w_suit.mdl had the wrong version.It said it was 0 and it should have been 30,or something like that.
I got Jumbot v2.4 from here:
http://www.telefragged.com/thefatal/old/jumblow.shtml
I thought that was your site.
Thanks again.
Rich Whitehouse
June 20, 2011 at 2:27 am (CST)
I have no plans to forsake DNF. Like I said before, I plan to give Gearbox a few days into the week to reply to my last batch of questions/comments before I continue trudging through on my own.
jaden
June 20, 2011 at 1:22 am (CST)
Wow wow wow,awesome work senor casaroja,fantastic
Oh yeah senor if you have time can you please add shadow heart 2 covenant .pack file support too, cause i think its similiar format like shadow heart 1
Thanks a lot bro
3dwizard
June 20, 2011 at 1:21 am (CST)
I hope you don't quit the DNF thing Rich! Apparently you are the only one skilled enough and interested enough to make DNF modding possible.
If you quit, all is lost.
Rich Whitehouse
June 19, 2011 at 2:13 pm (CST)
An older client.dll made the zoom work again? Maybe you pulled it from a distribution someone else had already patched. Weird. I'm not sure why I even included a client.dll in the Jumbot, I'm pretty sure I never modified it for anything.
Federico: Not that I know of, though I still haven't gotten around to thoroughly investigating the disassembly pertaining to DNF's archives and file system. My efforts have been split over a wide variety of things over the last couple of days, including the QExpo 2011 project I just released.
Gordon
June 19, 2011 at 12:39 am (CST)
Nevermind my last question.I found the client.dll in jumbot v2.4,which unfortunately didn't work,so i just copied the client.dll in jumbot v2.0 and it works.I can now use the scope on the 357 and the crossbow scope.
Greetings from Romania.
Federico
June 19, 2011 at 7:21 am (CST)
well.. about the audio files.. is there any folder in the game where they could be read instead of packing it in a .dat file?
thanks
Gordon
June 19, 2011 at 1:52 am (CST)
Thanks for your reply.I googled for a fix but with no success.Where can i get the latest client.dll ?
Thank you again.
Rich Whitehouse
June 19, 2011 at 1:16 am (CST)
Well, as I've mentioned before, I think having people modify their core .dat files is a really bad idea. It's prone to lots of issues. It's especially prone to causing problems with Steam, and with updates/patches. Therefore, I plan to only go this route if I'm absolutely forced. I've asked Gearbox for some feedback on this issue and plan to give them another few days into next week before I just proceed on my own.
Gordon: There was some third-party fix for that, at one point. I don't remember what it was. I think you might just need to use the latest client.dll. I'm not sure, it's been too many years since I poked around in that stuff.
Comment Pages:
Previous ... 1 2 3 4 5 6 7 [8] 9 10 11 12 13 ... Next
Post a comment